Dental Veneers In El Paso, Texas
Beautifying El Paso Smiles with dental veneers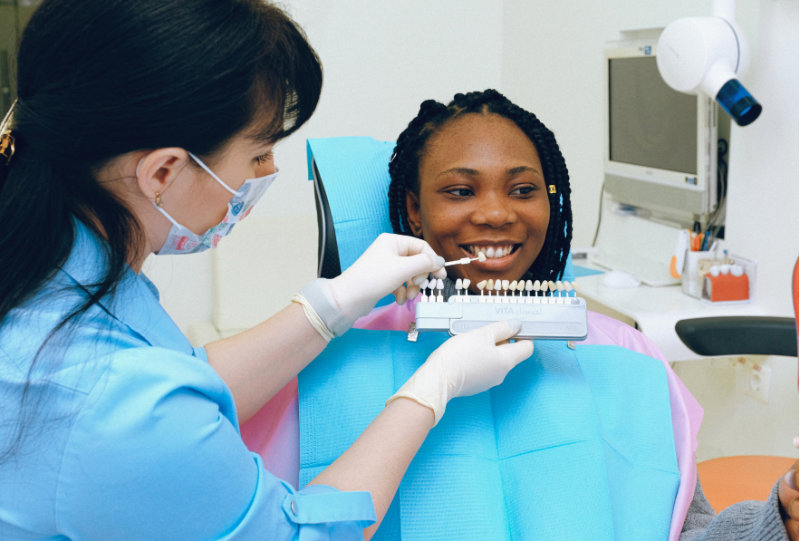 Sat 8:00AM-2:00PM (call first)
What Can Porcelain Veneer Do For Your Smile?
There are usually several goals that can be accomplished by dental veneers.
Change the color of a tooth. Get whiter and brighter teeth.
Change the shape/alignment of a tooth and thus make your teeth look straighter/better aligned. Dental veneer can also close diastemas (Gap between your front teeth)
Fix chips and discolored/leaky restoration
This is a recent dental veneer case done at Sun Ridge Smiles in El Paso, Tx. We changed the alignment, shape, and color of the patient's teeth with four dental veneers. An in office bleaching was also performed to enhance the rest of the teeth and create a harmonious look.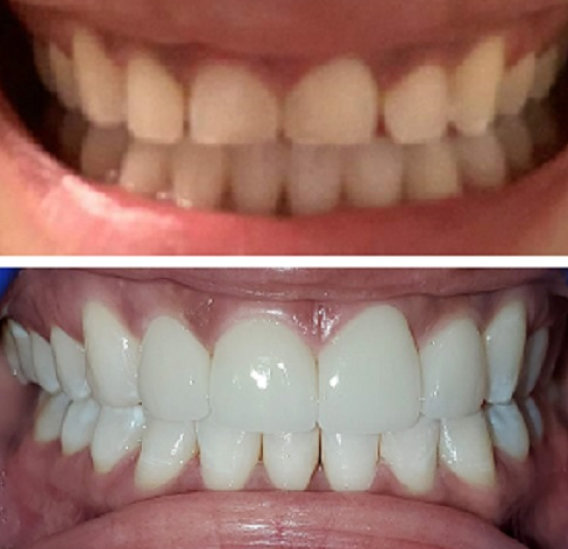 Change your smile without braces
If you are unsatsified with your smile and want to get straighter, whiter, and more beautiful teeth, it may be possible to transform how you look with veneers instantly. If you have any questions on what veneers can do for you, please feel free to book a consult with us.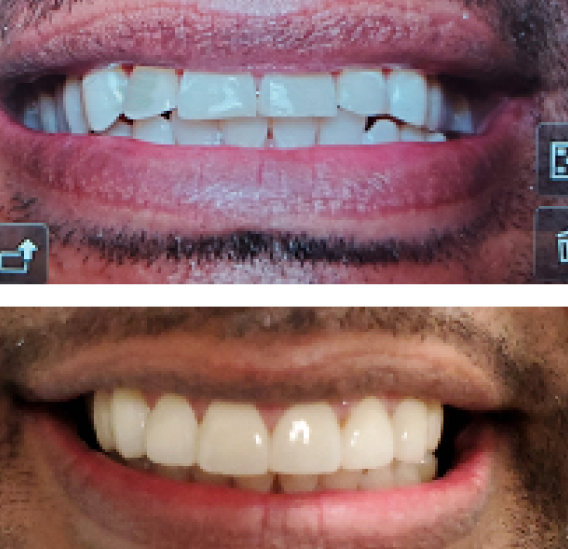 Patient had erosion on his front teeth, he wanted to change the colors and the alignments of them. Total case start to finish is 1.5 month
What To Expect With Porcelain Dental Veneer
The most important part of doing veneer is the initial planning. A comprehensive exam must be performed first to ensure the teeth that will get veneer is a good candidat for veneer. As part of the comprehensive exam, photos and impressions of the mouth will be taken and sent to the lab where the veneers are shaped in wax.
On the second visit, the patient and the dentist will discuss the possibilites, and if necessary, any changes or modifications to the wax veneer and communicate it to the lab.
On the third visit, the tooth will be prepared for the porcelain veneers. A mold is taken and sent to the lab for fabrication. The patient will receive temporary veneers during this time, and can see what the final results will be and provide feedback as needed which would also be relayed to the lab.
Finally, after the dental veneers are received from the lab, they will be tried on the teeth first and checked for fit. Sometimes slight adjustments are needed and the veneer can be customized even more chair side. Once the patient loves the way they look, the veneers are bonded into place permanently.
With proper care and careful planning and execution, porcelain dental veneers can create a confident smile that can last for years.
Start to finish, YOU CAN GET YOUR SMILE IN TWO MONTH OR LESS!
Total Smile Makeover in 2 Months Or Less!
Dental Porcelain veneers can change how you smile dramatically in a very short amount of time. Typical case takes about 2 months from start to finish, but it could be shorter depending on the difficulty of the case.
Frequently Asked Questions
If you have any questions about Sun Ridge Smiles Dental Porcelain Veneers, just contact us.
Porcelain veneers do not require special care. When done correctly with the proper case selection, the veneers are extremely durable. With routine dental exams and cleanings, and daily oral hygiene with flossing and brushing, they can last anywhere from 7 to 20 years.
Because the material for dental veneers are very strong and none porous, they do not change color over time. However, the underlying tooth may change color over time with habits such as daily coffee intake. To minimize this, it is recommended that the patient be careful with their food intake if they have a tendency to get staining on their natural teeth.
Some private dental insurances may cover part of the cost associated with dental veneers, however, a majority of the time insurances consider dental veneers a cosmetic procedure, which usually falls in a none covered service category. There are times where due to the teeth already deteriorating, the dental veneer is actually considered a covered benefit, our insurance specialist would be able to tell you.
Veneers are typically done in even numbers (ie, 2, 4, 6, 8, 10, etc) due to the need to be symmetrical. Doing them in even numbers ensures we get maximum symmetry, which enhances the aesthetics of your teeth and natural beauty. The exact amount of veneer needed is planned out with the dentist during the treatment planning phase to ensure that you understand what results can be achieved with however many veneers.
Our Dental Office In East El Paso, Texas.