Invisalign El Paso, Texas
Straight teeth can enhance your natural attactiveness due to increasing symmetry in your face. There are different options for making your teeth straighter. Some methods are invisible, such as invisalign. Invisible clear aligner may be right for you. The dentist at Sun Ridge Smiles can explain all your options before you begin your teeth straightening journey with invisalign in El Paso, TX.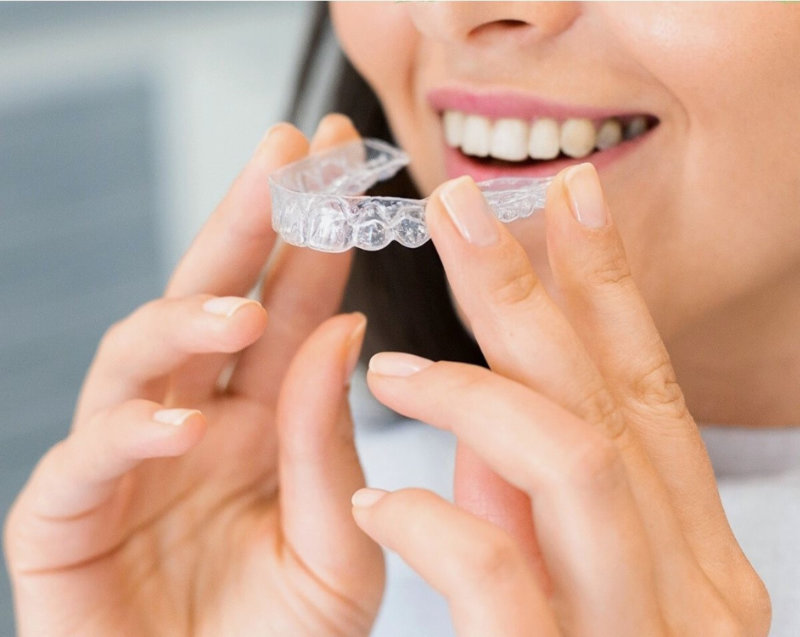 What Can Invisalign Do For You?
This is the right place to get information on invisalign in El Paso, Tx. Invisalign is the original clear aligner that can straighten mild to moderate orthodontic cases. It is made out of comfortable clear plastic material that is worn throughout the day. The clear aligners gently apply pressure to the teeth to move them into the correct position. After the treatment, your teeth will be straight and your bite could be correct. Straighter teeth will allow easier hygiene and potentially prevent bone loss around certain areas. It may also help distribute the biting forces more evenly thus enhance the longevity of all the teeth in your mouth.
Smile Confidently with the Magic of Invisalign
Experience the revolutionary method of teeth straightening with Invisalign – a clear, comfortable, and virtually invisible solution for correcting misalignments. Embrace the freedom to smile confidently while your teeth are gently guided into their perfect positions, without the restrictions of traditional braces.
What To Expect With Invisalign in El Paso, Tx
At Sun Ridge Smiles, your Invisalign consult start with a comprehensive exam. We will carefully examine all teeth and check your gum to make sure that the Invisalign process is safe and effective for your teeth.
After the exam and x-rays, a mold of your teeth is taken and sent to the Invisalign lab and the trays are fabricated. There may need to be adjustments to your teeth to create space, as well as invisible buttons added onto your teeth temporarily to help the movement of the teeth. The end result is a beautiful straight smile!
Frequently Asked Questions
If you have any questions about Invisalign or Clear Aligners, just contact us.
Invisalign treatments tend to be fast, stretching from about 6 month to up to 2 years.
Dental Insurance may cover invisble clear dental aligners, which would offset a portion of the cost. If you have any question about your insurance, please contact us and we can verify your insurance benefits for you. Monthly Payment can be as low as $89. You can read about other options to paying invisalign cost here.
Only a board certified dentist can evaluate your teeth properly prior to getting you the clear aligners. If theres any underlying issues that prevent you from using clear aligners safely, we highly recommend you have that fixed before you start.
Invisalign will work for most cases, but not all. If your teeth are extremely crooked or crowded, or if the misalignment of teeth is caused by skeletal issues, invisalign may not be the right solution. Please schedule appointment online with us for a consultation so that way you know if this is the right solution for you.
Our Dental Office In East El Paso, Texas.
Monday 8:30am-2:00pm
Tuesday 10:00AM-7:00PM
Wednesday 8:30AM-5:00PM
Thursday 10:00am-7:00pm
Friday 8:30am-3:00pm
Saturday 8:00AM-2:00PM